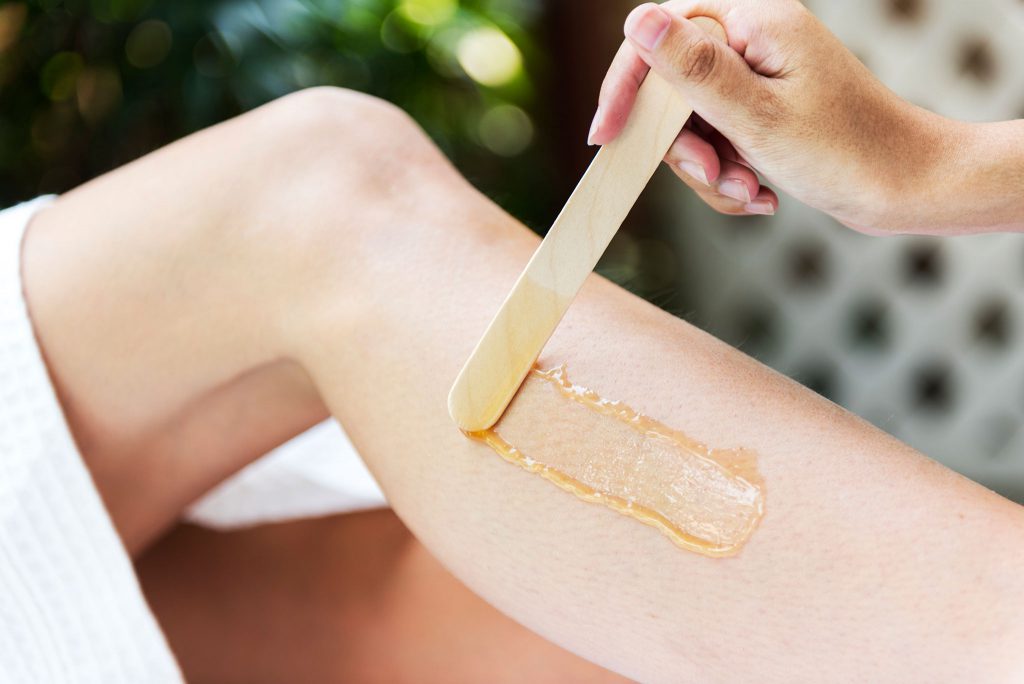 Waxing is a form of semi-permanent hair removal which removes the hair from the root. New hair will not grow back in the previously waxed area for four to six weeks, although some people will start to see regrowth in only a week due to some of their hair being on a different growth cycle. Almost any area of the body can be waxed, including eyebrows, face, pubic area (called bikini waxing), legs, arms, back, abdomen and feet. There are many types of waxing suitable for removing unwanted hair.
There are many benefits to waxing versus other forms of hair removal:
It is an effective method to remove large amounts of hair at one time.
It is a long-lasting method. Hair in waxed areas will not grow back for four to six weeks.
When hair is shaved or removed by depilatory cream, the hair is removed at the surface rather than the root. Within a few days, the hair can be seen at the surface. With these methods, hair tends to grow back in a rough stubble.
Areas that are repeatedly waxed over long periods of time often exhibit regrowth that is softer.
A standard bikini wax is a basic shaping of pubic hair into a neat upside-down triangle shape to the edge of the panty line.
The bikini extended wax removes more hair than the simple bikini line. This service removes hair from the sides of the bikini area, and a thin line of hair from the labia. The majority of the hair on the labia will not be removed.
This waxing includes everything from front to back, leaving as much as you'd like in the front strip or triangle in a size of your choice.
Everything Off! Wax includes everything from front to back, leaving nothing in the front. Includes between the cheeks as part of this service.
I'm doing intimate waxing for ladies since 2014.
I was following a course in Hungary to learn from professionals how to use sugar paste.
I can say in these years I specialized in this very sensitive type of waxing on the body.
Don't worry, you are totally safe between my hands!
Hygiene and discretion are very important for me. Everything what happens in the treatment room stays strictly between us!
I use two different type of wax for Intimate waxing. Sugar paste and a very skin friendly no strip wax. Both are very good quality from Hungary.
Do and don'ts on the day of waxing:
On the day of the waxing please don't use any bodylotion, cream or oil. It makes the waxing very difficult.
During the waxing you won't wear underwear so please take a shower before waxing. You feel also more comfortable and it's easier for the beautician to work on a clean surface!
Be sure the hairs are not too long. If yes, please trim it at home, so you'll have less pain during waxing.
But keep it in mind the hairs have to be between 0,5-1 cm.
After waxing avoid hot shower for a couple of hours, don't go to sauna or the swimming pool. You would have much bigger chance to get irritation or infection.
Why is sugaring better then other waxes?​
Sugaring is a very old and gentle method of hair removal. Sugar is specially good for sensitive skin or for people with problems of ingrown hairs. Never heard about it? Come, and try it on your own skin! I guarantee you'll love the result.
Pure and natural ingredients
Sugar paste is 100% natural. No chance for any kind of allergic reaction.
Sugar paste is only warmed to about body temperature, which results in no risk of burning and less swelling.
It won't stick to live skin
Sugaring only removes dead skin cells, leaving skin feeling soft and smooth. Also, since live cells aren't removed during sugaring, it is less painful than waxing.
During sugaring the paste wraps around the hair making it pliable, while seeping into the hair follicle lubricating the hair to make the extraction more complete & gentle. The hair is removed out of the follicle only in the natural direction of growth.
Hot waxing tends to be better for shorter, more stubborn hairs making it more comfortable for intimate waxing. Working at a slightly higher temperature, hot wax is a thicker wax applied to the skin, then allowed to cool and contract. It is then peeled from the skin without any strip removing unwanted hairs.
Hot waxing tends to be better for shorter, more stubborn hairs making it more comfortable for intimate waxing.
Because the Hot Wax is able to cling to the hair as it dries on the skin it is super effective at stripping out that hair without irritating your skin.
The heat encourages your pores to open up
Hot wax is so effective because it is just that – hot. The heat encourages your pores and hair follicules to open up making it easier to remove the hair.
Perfect voor stubborn hair
Hot wax is used more often for woman who has thicker hair and deeper roots.